About this event:
Created by mysharedadmin
---
Took place on October 22, 2015
from 7:15 am
to

4:30 pm
Earle Brown Heritage Center 6155 Earle Brown Drive Brooklyn Center, MN 55430
Price: USD 100.00
Member Price: USD 100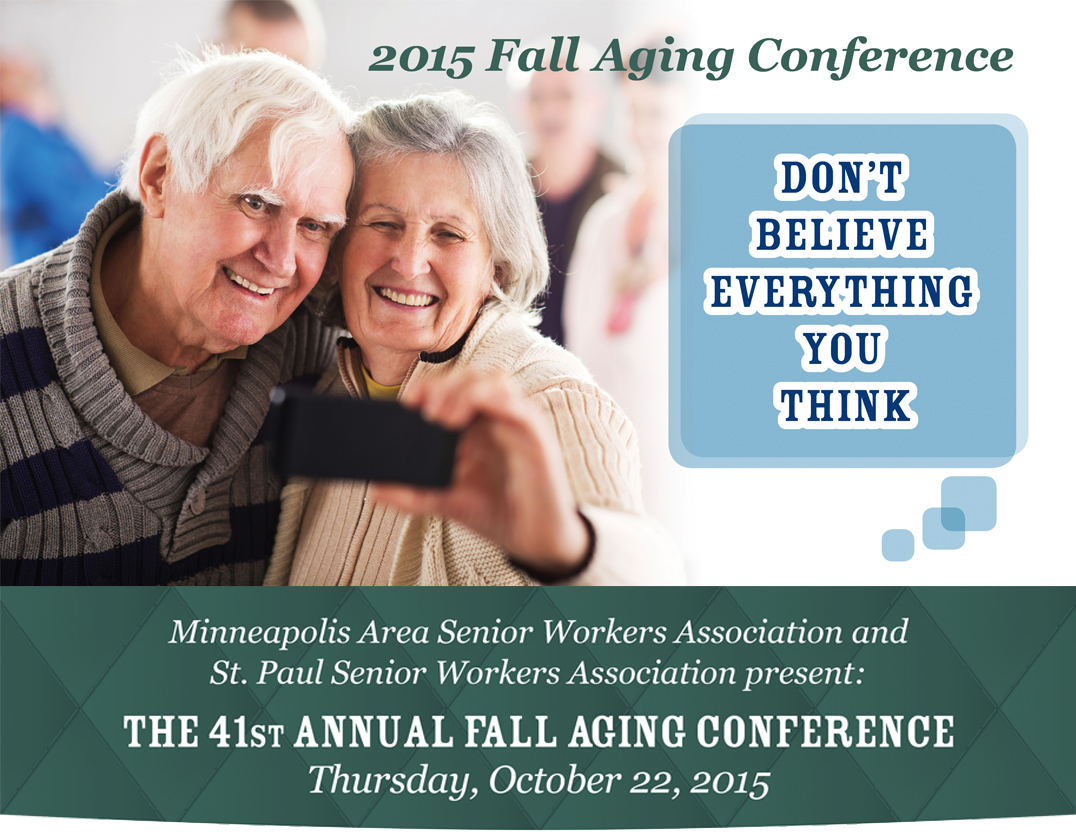 All of us work hard to help our loved ones, and those we serve in our community grow old with grace, purpose, and joy. This year the Fall Aging Conference will focus on some of the challenges you and your colleagues encounter when caring for your patients/clients, and their family members. The conference will offer in-depth information allowing us to analyze aging and offer different types of care based on the needs of seniors today. There are many factors that impact how we care for the elderly and our goal is to help you, professional caregivers, adjust to those changes in an effort to improve the quality of life for our aging population.
THE CONFERENCE GOAL is to provide individuals working in the field of aging an opportunity for education, resources, support, and connectivity in relation to issues affecting seniors, ultimately improving services and advocacy for seniors in our community. At this year's conference we will again have multiple vendor booths in the lecture ballroom, as well as outside the lecture venue. They will be offering products, services, and information.
We will be hearing three inspiring speakers presenting on the theme "Don't Believe Everything You Think". We make assumptions about the people we serve on a daily basis. Our assumptions are based on our educational background, life and professional experiences, and socio-economic background. Our speakers will challenge us to challenge our assumptions about our clients, their families, and our co-workers. THE CONFERENCE HAS BEEN APPROVED FOR 5.75 CONTINUING EDUCATION UNITS for Nursing Home Administrators, Social Workers & Certified Senior Advisors.
---
The Gold Sponsor for this year's conference is Ebenezer.
Thank you for supporting the MASWA and SPSWA Fall Aging Conference
---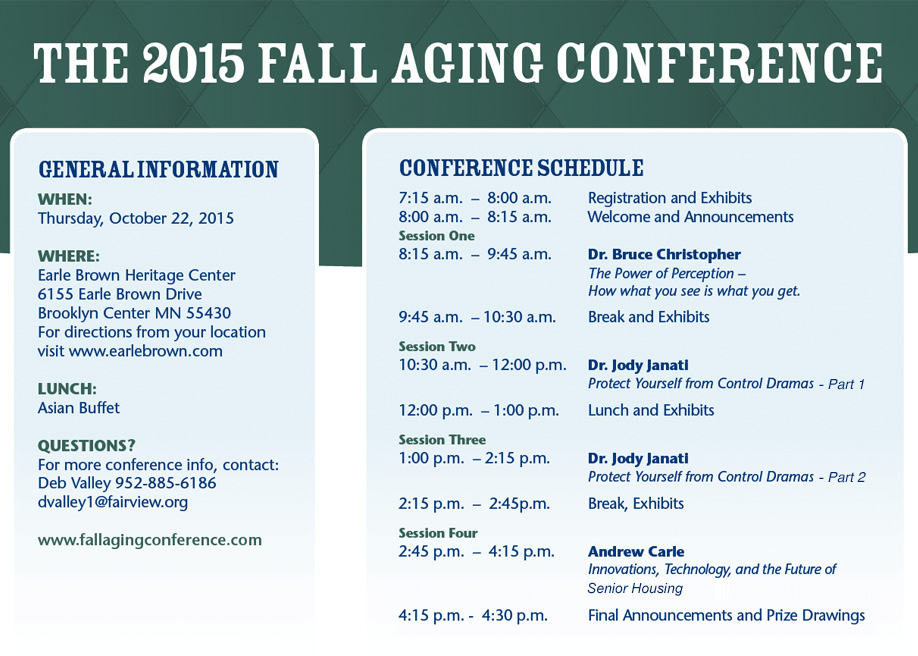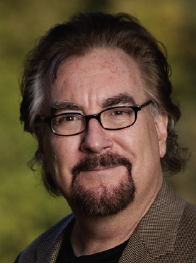 DR. BRUCE CHRISTOPHER
Speaker, Psychologist, and Humorist. Bruce is a licensed psychologist with over 20 years of experience as a speaker, trainer, and consultant. He speaks over 150 times each year and is one of the most sought after speakers in the Fortune 500 and his clients include: 3M, IBM, Texas Instruments, Oracle, G.E., Boeing, and the IRS.   Humor is a big part of Bruce's presentations, for he believes, "When you're laughing you're learning!"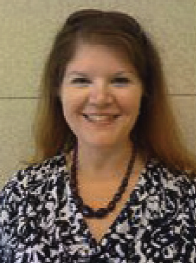 DR. JODY JANATI
Trainer, speaker, conference facilitator… Jody Janati has an Ed.D. degree in organizational Leadership, and a M.A. degree in Speech Communication. She currently teaches in the Communication Studies Department at the University of Minnesota. She offers a variety of public and professional workshops on conflict reduction tactics and effective communication skills throughout the year. During her academic career she has held a number of administrative positions in higher education, taught for various colleges in the Twin Cities metro area and authored four books.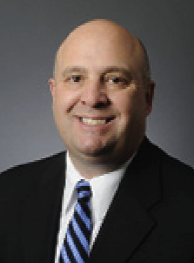 ANDREW CARLE
Executive-in-Residence, Assistant Professor, and Founding Director, Program in Senior Housing Administration at George Mason University. Andrew has more than 25 years of executive level senior housing and healthcare experience. Andrew garnered international recognition for defining a new sector of technology – "Nana" Technology™ (technology for older adults), and a new category of senior housing – "University Based Retirement Communities" (UBRC's).™ Andrew is a highly sought national and international keynote speaker for senior housing, technology, and aging services industries.
---
Sponsorship Opportunities



Interested in sponsorship opportunities?  Download the registration form and send it in!  If you have any questions, contact Angela Regan or Lisa Dunn!
---
2015 Conference Registration
Online registration is now closed.
---
Please bring a non-perishable food item to contribute to the Fall Aging Conference's food drive.
---